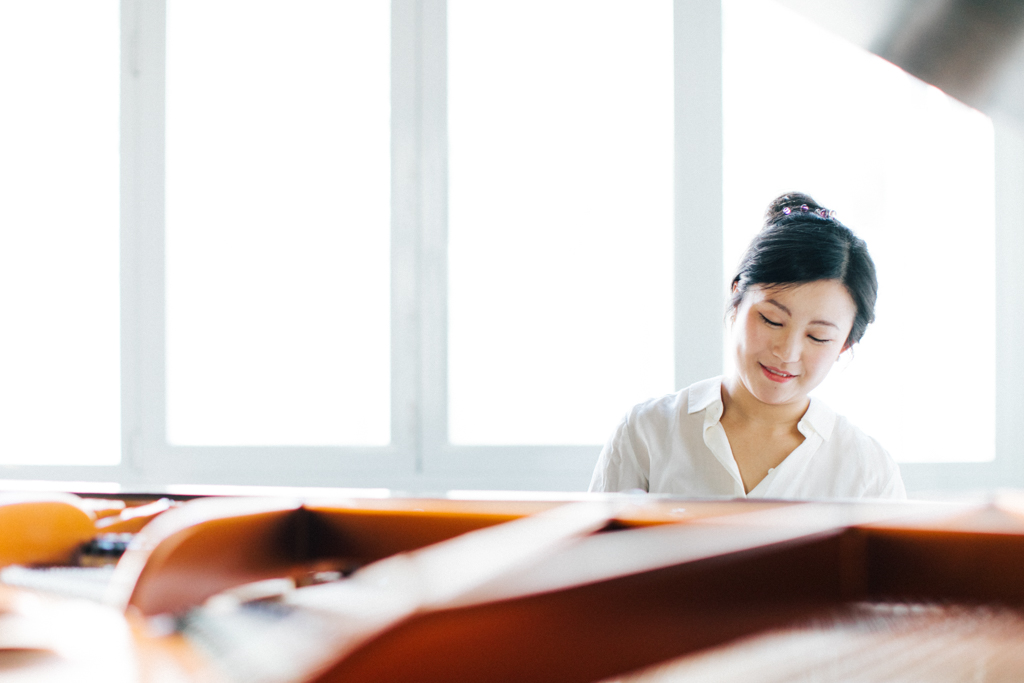 "...performed with deep sensitivity… "
Hailed for her "deeply sensitive performance" (Kyodo News), Japanese pianist KASUMI YUI captivates audiences with her expressive and creative playing.

KASUMI started playing the piano when she was three years old and moved to England at age nine. As a prize-winner of multiple international competitions, KASUMI has appeared at venues such as Vienna's Musikverein and Konzerthaus, London's Wigmore Hall and Vienna's MuTh. She has performed at festivals such as the PODIUM Festival Moedling (Austria), the Daejeon Chamber Music Festival (Korea), Festival Bergerac (France) and performs regularly in various venues in Austria, Germany, France, Bulgaria, Italy, Japan and Switzerland.

KASUMI was most recently awarded First Prize along with the Special Prize of the Neue Kuenstlerforum in the chamber music category at the 23rd International Johannes Brahms Competition in Poertschach, Austria. KASUMI has appeared on multiple Japanese media including the NHK, Kyodo-News, TV-Asahi, Mainichi-Shinbun and has recorded for the Austrian national radio (Ö1 and ORF).

KASUMI is a member of "Trio Parémi" with whom she has performed at the Philharmonic Hall in Opole, the int. Chamber Music Festival Nowogrodziec (Poland) and the Niederösterreichischen Musiksommer (Austria). They made their debut at the Vienna Konzerthaus in 2021, where the concert was broadcasted on Austrian Radio and as a streaming concert. They premiered their programme "Revolutionary Women" in April 2023, a programme solely consisting of works by women composers, at the Vienna Musikverein.
With her duo partner Dmytro Udovychenko, KASUMI will be giving concerts in Japan, Austria and Germany in the Season 2023/24 with lesser-known works of composers with Russian and Ukrainian roots.

An avid lover of chamber music, KASUMI enjoys collaborating with young, passionate musicians as part of the Villa Musica Foundation in Germany alongside mentors such as Boris Garlitsky, Alexander Hülshoff and Amanda Forsyth. Her chamber music partners include Michael Havlicek, the Küchl Quartet, the Ineo Quartet and members of ensembles such as the Simply Quartet and the Vienna Philharmonic Orchestra.

KASUMI lives in Vienna since 2009. She has earned her Bachelor and Master's Degree at the University of Music and Performing Arts Vienna in Solo Performance and in Chamber Music respectively. She also receives valuable guidance from Avedis Kouyoumdjian, Tamara Atschba, Stefan Mendl, Dora Schwarzberg, Johannes Meissl, Pavel Gililov, Péter Nagy, Roshan Magub, Rainer Küchl, Lothar Strauss and Clive Brown.

Highlights of the 23/24 season include an appearance at the "Emilia Romagna" Festival (Italy), trio recitals as part of "Jeunesse" (Austria) and duo recitals in Germany.